Do you already have it installed? Do not wait more!
Available in Android & Windows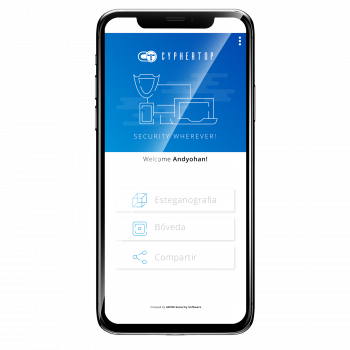 Cyphertop gives the guarantee that your files will be 100% protected.
You can upload any type of file: Doc, XML, PPT, Jpg, Jpep, PNG, mp4, mp3.
No intruder will be able to see your files.
Your registration data is not stored on our servers.
The interaction is unique, just you and the software.
You can hide files within images.
No one will believe that a file is inside a photo.
our steganographic techniques do not allow detection of information stored in images.
Completely safe and secret.
Unique encryption chat, totally secure.
Send and receive files securely.
Create secret conversations with your contacts.
All conversations that are generated using Cyphertop are not stored at any time in a database, since Cyphertop handles a fully encrypted transport layer from device to device, therefore we do not store any type of information shared among users.